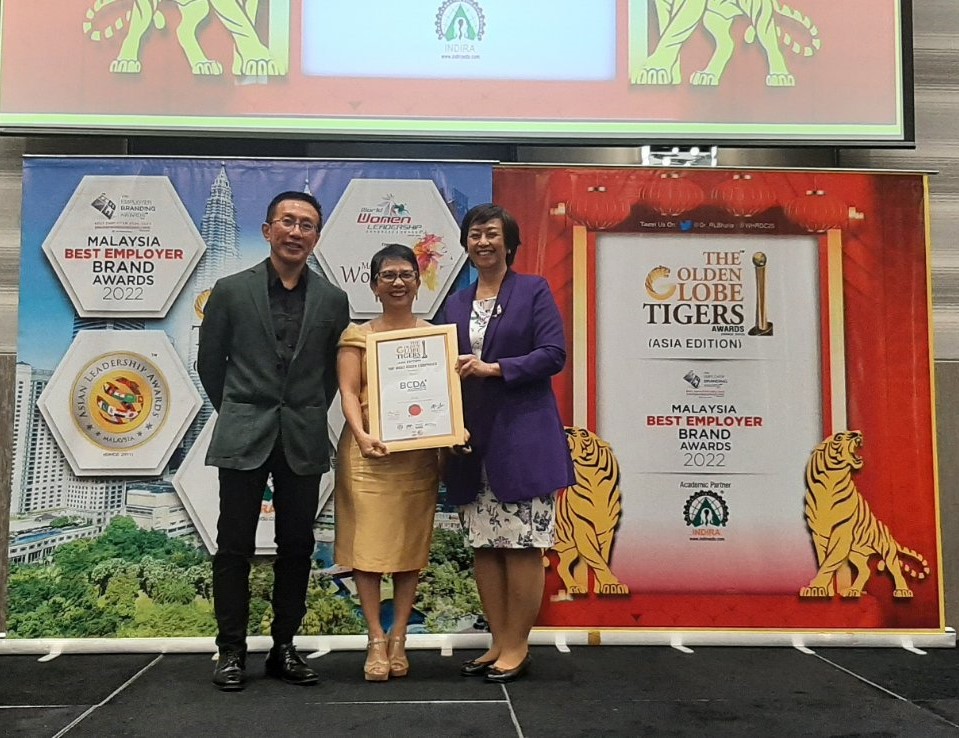 The Bases Conversion and Development Authority (BCDA) has made the elite list of the "Top Most Green Companies" in the Asian Edition of the 9th Golden Globe Tiger Awards recently held at The Pullman Kuala Lumpur City Center, Malaysia.
Jocelyn Caniones, BCDA Vice President for Corporate Planning, received the award on behalf of BCDA, one of only two honorees in the category this year.
"Sustainability and environmental management are among the values that the BCDA organization takes very seriously, especially in the planning, development and implementation of all our projects. This prestigious recognition by the Golden Globe Tigers Award for the work that we do gives us a deep sense of humility and fulfillment. May it serve as an inspiration for all of us at BCDA to be responsible stewards of the environment today and for generations to come," Caniones said.
BCDA is currently developing the 9,450-hectare New Clark City in Tarlac as a smart, resilient, and sustainable metropolis of the future that can help decongest Metro Manila and serve as a catalyst for growth in Central Luzon.
Only 40 percent of the total land area will be developed, while the remaining 60 percent is allotted for green and open spaces, upland farming, and forests.
New Clark City's standards for urban, industrial, and infrastructure developments are part of its Comprehensive Master Development Plan prepared by BCDA in partnership with reputable organizations such as Japan Overseas Infrastructure Investment Corporation for Transport and Urban Development (JOIN) and Surbana Jurong of Singapore. Urban planning and engineering firms including AECOM, Nippon Koei, and Philkoei International were also tapped in the development of the master plan.
The Asian Development Bank (ADB) has supported several studies in New Clark City, including a master plan review, a river system study, and a full biodiversity assessment of the area to help BCDA in the development and implementation of its sustainability plan and biodiversity management programs.
>BCDA has also been working with the United Kingdom Foreign and Commonwealth Development Office (UK FCDO) in the planning of key sustainable and resilient features of New Clark City, namely its central park, affordable housing project, and the establishment of a sustainability unit for the rising metropolis.
New Clark City was selected as a pilot area of the UK FCDO-funded Global Future Cities Programme (GFCP), a multi-partner initiative that supports 31 transformative projects for sustainable development in 19 cities in 10 emerging economies, including the Philippines.
Recognizing "tigers" that seek excellence in their respective disciplines and industries since 2013, the Golden Globe Tigers Awards recognize individuals and organizations that "aim at believing that excellence is infinite and perfection has no limit." 
Honorees are viewed as those who can lead the "shaping of the destinies of the future", community involvement in environmental protection, as well as effective and sustainable mobilization of resources in support of local programs and projects.
For the "Top Most Green Companies" award, research was conducted by panel members with extensive post-graduate credentials in history and management. 
The shortlist was then reviewed by a jury composed of senior professionals from across the globe.