Despite the economic uncertainty and disruption caused by the pandemic, the Bases Conversion and Development Authority (BCDA) delivered a strong financial performance after its remittances to the national government reached Php 7.53 billion in 2022, an increase of Php2.94 billion or 64% from Php 4.59 billion in 2021. This was mainly driven by continuing cash inflows from existing joint ventures, leases, and other income-generating activities of BCDA.
Bulk of BCDA's remittances to the national government came in the form of disposition proceeds amounting to Php 6.38 billion. This amount came from the income generated by BCDA in 2021 from the sale, lease, or joint venture development of former military camps in Metro Manila, pursuant to Republic Act 7227 or the Bases Conversion and Development Act. It will then be allocated and distributed by the Department of Budget and Management to the Armed Forces of the Philippines (AFP) and other beneficiary agencies.
The other Php 885 million came in the form of dividends, while the remaining Php 269 million were from guarantee fees and other obligations.
This strong financial performance is driven by our commitment to our mandate of improving the quality of lives of those not just in our properties, but also those in the surrounding communities. After a very difficult two years, doing more with less will be the underlying principle of all our efforts in BCDA as the national government copes with tightening budgets. Now more than ever, we will be very conscious in generating revenues for the modernization of the AFP," said BCDA President and Chief Executive Officer Aileen R. Zosa.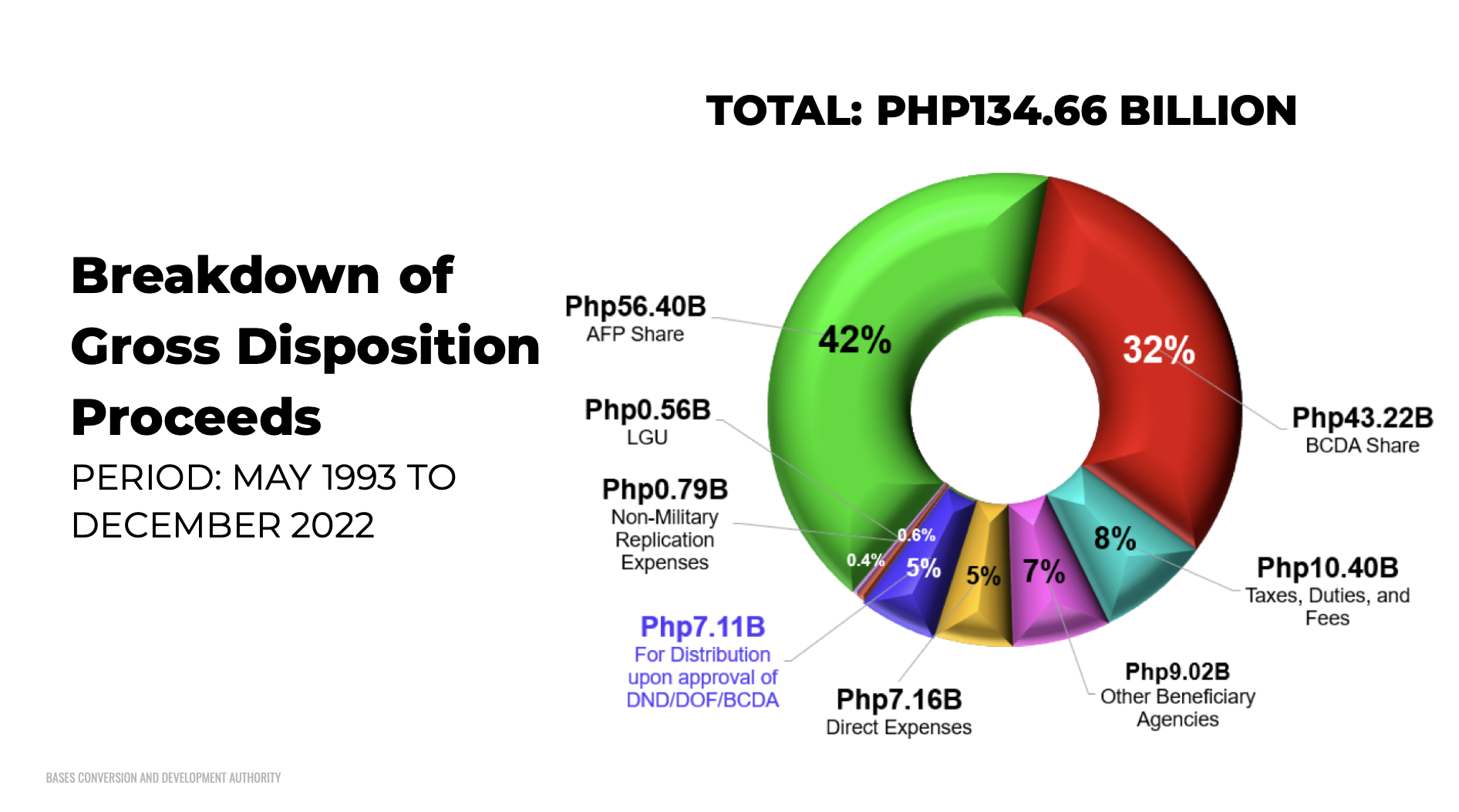 ​
Fueled by BCDA's strong financial performance, the gross disposition proceeds also increased by Php 7.11 billion or 6% to Php 134.66 billion during 1993-2022 period, from Php 127.55 billion in 1993-2021. The Php7.11 billion disposition proceeds is subject for distribution to the beneficiary agencies scheduled in the 2nd quarter of 2023 upon approval of the concerned government agencies.
In 2022, BCDA contributed Php7.206 billion to the AFP or Php4.562 billion higher compared to the 2021 remittance of Php2.644 billion. Of the gross disposition proceeds from 1993-2022, 42 percent or Php 56.40 billion is allocated to the AFP for its modernization program, giving a boost to military forces who respond to crises and defend the country against all threats.
Some Php 9.02 billion was remitted to the other beneficiary agencies, while Php 560 million was remitted to the contiguous cities of Makati and Taguig, and the municipality of Pateros.